Leuven, Belgium - Adore4customs is now called Customaite. The fast-growing product business unit of Leuven-based IT consulting company AE offers a SaaS solution for customs declaration automation. The team is now seizing two important logistics trade fairs to launch their new brand identity. With this rebranding, it wants to strengthen its global ambitions under the name Customaite as well as confirm its unique position in the world of AI-based, cutting-edge logistics technology. The team already counts major logistics players from the Benelux among its customer list and will soon announce the first global logistics player to opt for the Leuven technology.
Every day, millions of customs declarations are made worldwide for the import and export of goods, and significant portion of these are made at the ports of Antwerp and Rotterdam. Today, the majority of these customs declarations still require a lot of manual and often repetitive administrative work due to a complete lack of global standards for international logistics document flow. Until recently, it was practically unthinkable to do automation with sufficient ROI in this chaos of millions of unstructured documents. That's what Customaite is aiming to change, thanks to a clever application of AI.
Christoph Neut, CEO at AE and Customaite clarifies, "Over the past 2.5 years, AE has invested heavily in the development of an advanced AI SaaS platform for customs declaration automation. Thanks to our innovative approach, our 'early adopter' customers are now largely eliminating repetitive manual work. No more printing of various transport documents and manual retyping of data to file customs declarations. On average, this results in time savings of more than 50% compared to a manual customs declaration. Based on these exceptional results that the product team can present, and strong growth in international demand for our unique AI solution, we will continue to invest heavily in its development. Automating customs declarations with customized software, enhanced by AI, is a mission that also called for a strong new brand identity, which we are launching this week Customaite".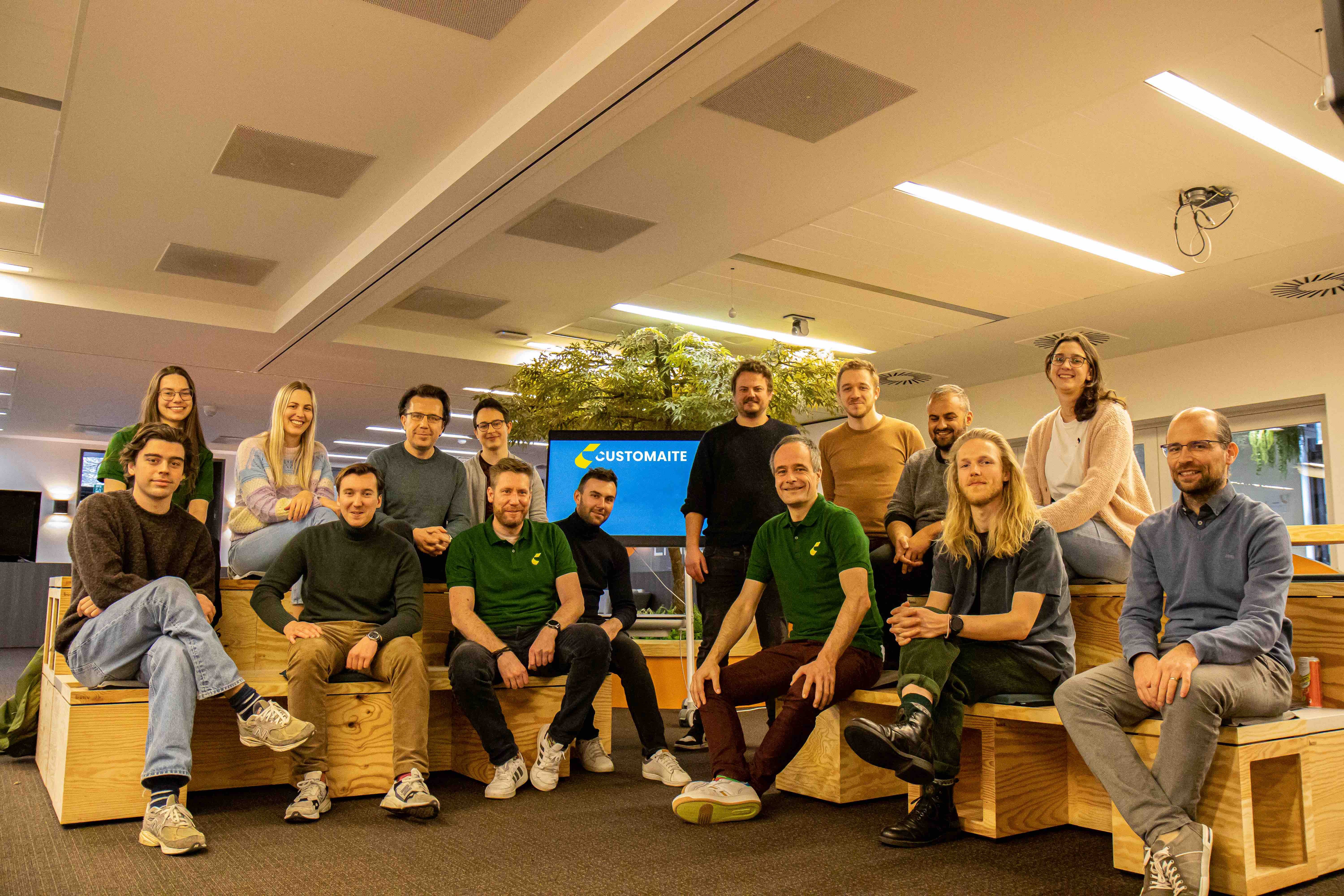 Pictured: Part of Customaite's product team
-------
Bram Vanschoenwinkel, as Chief Product and AI expert, is responsible for Customaite's product development and adds: "Everyone has witnessed the lightning-fast developments in the field of AI in recent months, and the vision we endorse here is that our AI model offers the perfect support to the human, the customs clearance agent. By combining innovative technologies such as computer vision, natural language processing and machine learning in a smart and pragmatic way, we manage to eliminate the manual repetitive work of the declarants and allow them to focus on the important tasks where their customs expertise can shine through. Our market research currently shows that we are one of the few players in the world with this specialization, but I can safely say that in the meantime we have built a strong lead. Combining our expert AI competencies with a thorough knowledge of the customs world has made this possible."
Wim Van Emelen, Chief Operations at Customaite, adds: "We are looking forward to launching our new Customaite brand at two trade shows this week - Supply Chain Innovations in Antwerp and Multimodaal in Breda - and interacting with companies from the customs and transport sector. Some large regional players in the logistics sector are already working with our solution and we will announce shortly that a major global logistics player will also start to use our tool. As with everything, seeing is believing: I would like to invite everyone at one of our booths to discover our tool during a live demo."


Trade show websites:
www.multimodaal.nl
https://www.valuechain.be/nl/supplychaininnovations/55354/concept