Randstad Group, a global market leader in HR services, hosts a shared service center for their more than 2,300 Belgian employees. This center brings together all support services, including the internal HR department. To ensure that their digital tools will continue to facilitate HR operations and strategic projects in the future, Randstad Group called on AE for a full audit of their digital HR landscape.


Keep the bigger picture in mind
"Our CHRO, Walter Reynaert, wanted to obtain a neutral, external view on our digital HR landscape and receive recommendations for efficient processes and future-oriented tooling," explains Raf Heroes, HR Advisor at Randstad Group. "Today, after all, we use a wide series of digital HR tools to facilitate our HR processes, including recruitment, internal communication, payroll, performance and talent management.
We want to keep our HR landscape future-proof and take proactive measures where necessary. Being the HR department for a world-renowned group of HR service providers, we must set the bar as high as we can. Our approach to our own HR services must be exemplary," says Raf.

Complete audit of the digital HR landscape
"Our questions were therefore threefold: how future-proof is our digital HR landscape, and can it facilitate our strategic projects? Is everything logically put together? How can we improve the end user experience?", Raf explains. "To get the necessary answers, we got in touch with AE."
Rock-solid, multifaceted approach
"AE's proposal immediately stood out because of their well-thought-out, pragmatic and comprehensive approach that went beyond a mere analysis of the applications. They started from the challenges and opportunities for our business, focusing on the end user and taking technical complexities and possibilities into account. A rock-solid approach indeed. AE also has extensive expertise in the broad HR sector. Their own HR strategy, which regularly wins awards, further boosted our confidence in AE," Raf continues. "After listening to the final pitch, our mind was made up. AE would carry out a complete audit for us within the very tight deadline of two months."
AE started from the challenges and opportunities for our business, focusing on the end user and taking technical complexities and possibilities into account. A rock-solid approach indeed.
Raf Heroes - HR Advisor @ Randstad Group
Streamlined end-to-end HR experience
"From the very start of the audit, we felt a connection with AE's multidisciplinary team," Raf continues. "They immediately understood the roles HR and IT play in our organization and how our HR domains are structured and organized. In addition to doing a technical review and maturity analysis of our digital HR landscape's integration architecture, AE clearly pinpointed the strengths and points for improvement of the underlying HR processes and the user experience. After all, it is our ambition to offer every Randstad Group employee a streamlined end-to-end HR experience. From the onboarding of new colleagues to talent management: all these processes go hand in hand with the digital tools we use."
"Next to a large number of stakeholder interviews, AE organized an employee journey workshop and conducted heuristic usability evaluations for all our digital HR tools. The results enabled us to find out whether our own employees' experience is what it should be and whether our digital HR world is logically structured," says Raf.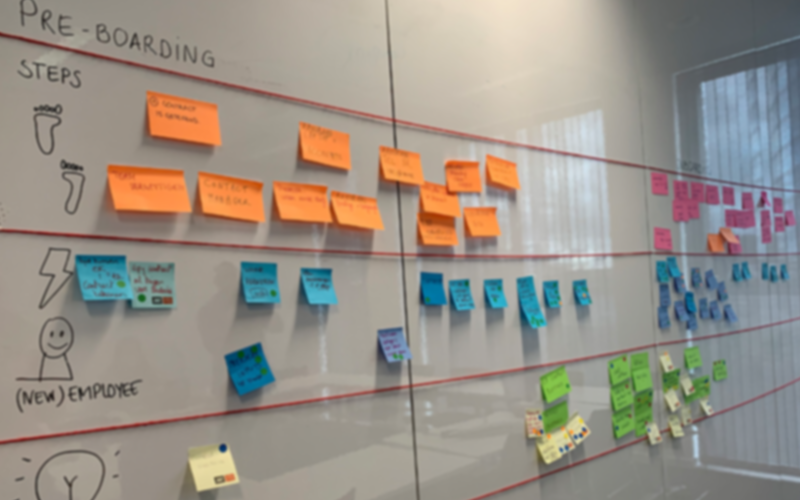 "Recognizable, accurate and constructive"
At the end of the audit, AE delivered a clear report with specific conclusions and recommendations to strengthen the full HR capability of Randstad Group and to facilitate their strategic HR projects. "They gave us an objective snapshot to move forward with, both in the short and long term. We now know that we are already doing well in certain areas. Yet there is still room for concrete improvements, as well as potential risks we must keep our eye on," Raf adds.
We received an objective snapshot to move forward with, both in the short and long term.
Did the audit surprise Randstad Group? "Only in the good sense," says Raf. "The analysis was very recognizable to us, and accurately and constructively identified the focal points for improvement. Notably, AE did not turn a blind eye on the opportunities and needs that emerged during their assignment. For example, they proactively identified project governance needs crucial for accelerating our digital transformation and innovation, and incorporated those needs into their final advice, which we received with open arms!"
Strategic roadmap with concrete quick wins
For Randstad Group this audit was just the beginning. The report is a snapshot as well as a strategic roadmap for the further digital transformation and innovation of the group's HR services. Raf: "Because the people of AE not only share their expertise but also regularly participate in the effective implementation of roadmaps like this, we are confident that their recommendations are not merely theoretical. There are some steps we can take right away, which are concrete quick wins for us. Other aspects of the audit have been included in our strategic long-term planning."
"At Randstad Group, 'striving for perfection' is one of our basic values," Raf goes on. "We don't claim to be perfect, but we do want to continuously improve at everything we do. The audit report will certainly help us to do so. It was ready just in time for the corona lockdown, but due to the current situation we were forced to postpone the next steps. Yet our enthusiasm has certainly not wavered – quite the contrary. Thanks to AE, we will soon be off to a flying start."
How
can
we help your organization?
We have all the experts and expertise in place to help you turn your challenges into opportunities. Together with you, we go all out to make your organization More Digital, More Human. Please don't hesitate to contact us.